2016.01.15
東京フィル 第872回サントリー定期シリーズ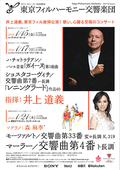 ハチャトゥリアン : バレエ音楽「ガイーヌ」第1組曲 ショスタコーヴィチ : 交響曲第7番「レニングラード」Op.60 東京フィルハーモニー交響楽団 フライヤーリンク
【Message】
The reason why I made my return with the Tokyo Philharmonic Orchestra performing the program I was supposed to conduct in the summer of 2014 is, the conductor Tadaaki Otaka, my friend who replaced me for that concert, chose to perform a different program and saved the one I was supposed to do for later, saying "Inoue will surely recover his health and be back".

I was able to give a performance well enough to meet his expectations, thanks to the concertmaster Eiji Arai's devotion to Shostakovich. Also, the passion of each member of the orchestra blossomed as a result of the persistent collaboration between them and myself. I am grateful for that.

The wonderful Suntory Hall is, to tell the truth, unsuited for Shostakovich's music, so we checked many times over the length of tones in every detail during the rehearsal. This effort seemed to have positive effects. But, probably, the fact that I became a decrepit old man had the most positive effect… In other words, I felt the members were very young!

Anyway, what great music Shostakovich wrote! Under adversity, he became stronger. Even in the dreadful situation during the 900 day Siege of Leningrad, he didn't hide his true talent and treasured it. Facing the peril of the purge which could have deprived him of his life, Shostakovich boldly tackled the possibilities of a story composed of all tones.

Ah! I have always strongly wished to be such gifted and decisive man, and so I have engaged myself in performing Shostakovich's music for a long time. My performance might not be as deep as it could be, but I think I could express the coldness, fear and hunger in his music this time. Over the border, and beyond the cultural, time and local differences, the audience could, I would like to think, listen to this symphony as one built of Shostakovich's impulse and hope.

Tomorrow, we will play this work again at the Bunkamura Orchard Hall. I hope we can give birth to another world and each musician could live inside it completely.
---